With A-levels officially finished, your next big chapter in your life may be moving out of your home and into your student accommodation. For many people, this will be the first time leaving home and living by yourself, living with friends or living with people you haven't had the chance to meet yet! No matter your situation, moving into student accommodation is a great opportunity to learn and gain independence and experience. Although it may be slightly daunting, there are plenty of ways to get prepared to move out. Here are our best tips before moving into student accommodation.
Budget and Save 
It's no myth that moving into student accommodation can be expensive, especially if it's your first time moving out of your home. You have a range of outgoings including rent, bills and food — not to mention the money set aside for enjoying your social life! One of the most important things you can do when you move into your student accommodation is correct budgeting. We'd highly recommend making a spreadsheet of your outgoings and incomings to work out your disposable income. We'd also recommend trying to save some money before you move into your accommodation. Although our student properties in Hull come equipped with everything you need, we often find that tenants like to add a personal touch to their accommodation.
To help make your stay in our student houses and apartments in Hull as easy as possible, we offer our all-inclusive bills option — meaning your internet, gas, electricity, water and TV licence bills are all included in one price. We do this to make your stay as affordable, enjoyable and stress-free as possible.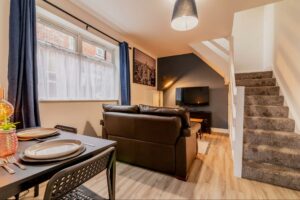 Cooking
Another way to reduce costs is by learning how to cook the correct meals. In a recent study in the UK, 42% of students order a takeaway three times a week or more with 1 in 10 students admitting that they order a takeaway every single day! We understand that you can't beat a good takeaway, especially with so many options in Hull, but it is important to remember that ordering takeaways can account for a large proportion of yearly outgoings and is unsustainable long-term.
Not only will learning to cook save you a lot of money, but it's also a great skill that you'll use throughout your life. Even if you haven't cooked before, there are plenty of online recipes and student cookbooks you can start learning from. There's no better time to start learning than just before you move into your student accommodation! 
All of our student properties in Hull are located close to all of the amenities you'll need including supermarkets, continental stores, restaurants and takeaways — for the occasional treat!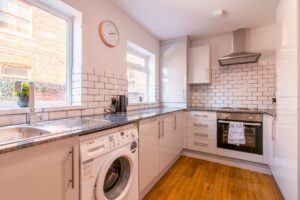 The Basics 
Whilst basic tasks like washing and cleaning are often dull and boring, they need to be done. One of the top things we'd recommend is getting into some cleaning and washing habits and routines before you leave home for university. 
By getting into habits, not only will you learn what needs to be done and how to do it, it will feel much less like a chore when it comes to doing the jobs in your student accommodation. 
By keeping on top of the cleaning and washing, you'll be setting yourself up for a successful year of study (and socialising). The last thing you want guests and friends to see when they come around is piles of pots waiting to be washed, dirty sides and counters and an overflowing washing machine — it isn't a good look! A tidy accommodation is also hugely beneficial for your health and well-being!
If you're in need of a student accommodation provider, we are the perfect solution for affordable, reliable and luxury student accommodation in Hull — contact us today!
Back to All