With the 2023/24 academic year rapidly approaching, you may be starting to think more about moving into your new student accommodation. Whether you're feeling excited, nervous or even a little bit worried, it's completely normal to be slightly apprehensive before moving in. Luckily, we've been providing student accommodation in Hull since 1987 so we completely understand how you're feeling and are here to help!
One of the best ways to help you settle into your new student accommodation is by making it feel like a home away from home. Here are the best ways we think you can do that.
Bringing Items From Home 
One of the easiest and best ways to create a sense of 'home away from home' is to bring a few items from your home along with you on the move. Whether they're small, sentimental pieces like a mug or a family picture or something more comforting like blankets and cushions, bringing physical things from your home is one of the easiest ways to add your homely touch to your student accommodation. 
Another great way to add your own homely feel is by making your student accommodation smell like home. Comfort scents in the form of candles or diffusers can help to make you feel relaxed and are great at helping you make your own home away from home.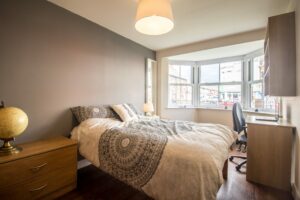 Adding Plant Life to Your Student Accommodation 
Live plants are not just a great way to add some colour to your student accommodation, they're also great at creating a calming and relaxing atmosphere – studies have shown that having houseplants can have huge health benefits!
Houseplants have psychological benefits and can help improve your mood by taking care of them and because of the way it helps bring a more positive vibe to the surroundings. Certain houseplants can also help lower stress and anxiety. Plants such as lavender have long been reputed to be a natural remedy to help relaxation and sleep. 
As well as the psychological benefits, there are a number of physical benefits that come with owning houseplants. The most common physical benefits of houseplants are reducing and preventing headaches, easing dry skin, and easing respiratory conditions. These are all because houseplants help filter and replenish the air in your room by removing the toxins in the air as well as releasing oxygen and humidity!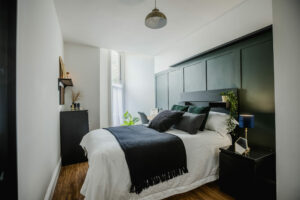 Making Sure You Have What You Need
It's important to make sure you have everything you'll ever need in your student accommodation – whether that's things you're bringing from your home, needs to purchase or the accommodation furnishing we provide. 
Here at Castle Homes, we want to make your accommodation as stress-free as possible, which is why our student properties are equipped with all the basics you'll need throughout your academic year including:
Wifi 
Fully equipped kitchen
Furnishing 
Full-length mirror 
Smart TV 
Parking (depending on the property).
To make life easier for you, we also offer a bills included student accommodation option. This option covers your fibre optic internet bill, gas, electricity, water and annual TV licence. 
Back to All