When moving into student accommodation, it can take a while to adapt to your new surroundings, new place and new life in general. At Castle Homes, our number one priority is providing luxury student accommodation in Hull, to make adapting to your new life that little bit easier.
Here are some of our top tips for adapting to student life…
1. Make it your own space 
Whether you're living alone or sharing student accommodation with others, there are always ways to make your new home more personal to you. If you're sharing student accommodation, your bedroom is your sanctuary. By bringing things from home, adding pictures of family and friends and making it more cosy by adding blankets, cushions and beanbags are great ways to make your room a personal space for you to enjoy and relax.
If you're living in your own place then there are so many ways to make your student property more homely. By adding a few decorative pieces and your own personal touch, your student accommodation can be so much easier to adapt to!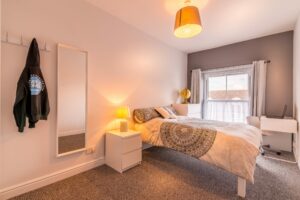 2. Learn the surroundings 
Learning the city you're moving to can help make the whole moving experience a little less daunting. Luckily, Hull is a fairly small city compared to other popular cities in the country – everything is some-what close by. 
Our student properties are each located close by to everything you'll need. Our properties are within walking distance to the university and local shops with excellent public transport links to get you wherever you need to be. 
All of our student properties are just a bus ride or taxi away from Hull's most popular and lively pubs, bars, restaurants and clubs! 
3. Start making friends 
University is a great opportunity to meet friends for life, especially if you're moving into a shared student accommodation. By maximising your chance of meeting friends, you will find adjusting to uni life will be so much easier! With Hull being such a friendly city, there's loads of ways to meet new people, including;
Your new house-mates (obviously!)
Clubs & societies 
Days & nights out! 
Finding people you get along with is a great way to help you adapt to life in a new city! 
At Castle Homes, we pride ourselves on offering the best student accommodation in Hull, if you're interested in one of our luxury student properties, check out our website to book a viewing. Alternatively, if you have any questions, feel free to contact our team who will be happy to help! 
Back to All